Aluminum 7075 Drawn Seamless Tube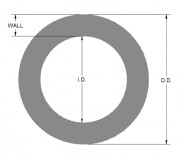 O.D max : 70mm / 2.76"
7075 Aluminum
7075 is the other "aircraft grade" aluminum. Its principal alloying ingredients are zinc and copper, this makes it one of the highest-strength aluminum alloys that are available. In fact, its typical strength in the T6 temper is higher than most mild steels.
7075 also has average-to-good ratings for machinability, corrosion resistance, and anodizing response. Like 2024, however, it is not considered to be weldable.
7075-T6 Aluminum

Physical and Mechanical Properties

Ultimate Tensile Strength, psi

83,000

Yield Strength, psi

73,000

Brinell Hardness

150

Rockwell Hardness

B87

Chemistry

Aluminum (Al)

87.1 - 91.4%

Zinc (Zn)

5.1 - 6.1% max

Copper (Cu)

1.2 - 2.0%

Chromium (Cr)

0.18 - 0.28%

Iron (Fe)

0.5 max

Magnesium (Mg)

2.1 - 2.9%

Manganese (Mn)

0.3% max